Level 3 courses
These courses are suitable if you have already completed a Level 2 course, or equivalent, and aim to work in a supervisory role, planning and organising your own work. A Level 3 Early Years Educator qualification is a valuable and recognised programme.

You have to be aged over 16, and you should have a relevant Level 2 qualification. You may be eligible for an advanced apprenticeship scheme, wher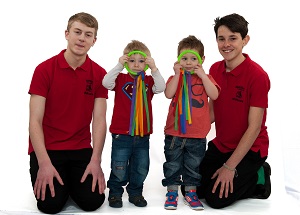 e you would follow a programme that includes the Diploma and key skills, first aid and employment rights and responsibilities.
What's involved?
You should be in full time employment if you are doing the Diploma, as most of your training is through work based learning (i.e. on-the-job). Your training can be supplemented by attending taught sessions at our training centre in Exeter, though this is not compulsory.
Progression:
If you are planning to go to university or move into a managerial position, the Level 3 Diploma is a good alternative to A-Levels, as it can be used to gain entry into further education courses. You can also use it to work as a childminder, a day-care supervisor, a pre-school supervisor, a family support worker or a classroom assistant. You can also go on to undertake Level 3 CPD, or go on to a Level 4 course.

What else?
You will also need English and Maths GCSE at grade C or above to be counted in ratios. We can provide training to help you achieve these.
Level 3 management
We also offer L3 management qualifications and apprenticeships. Please contact us for more details.